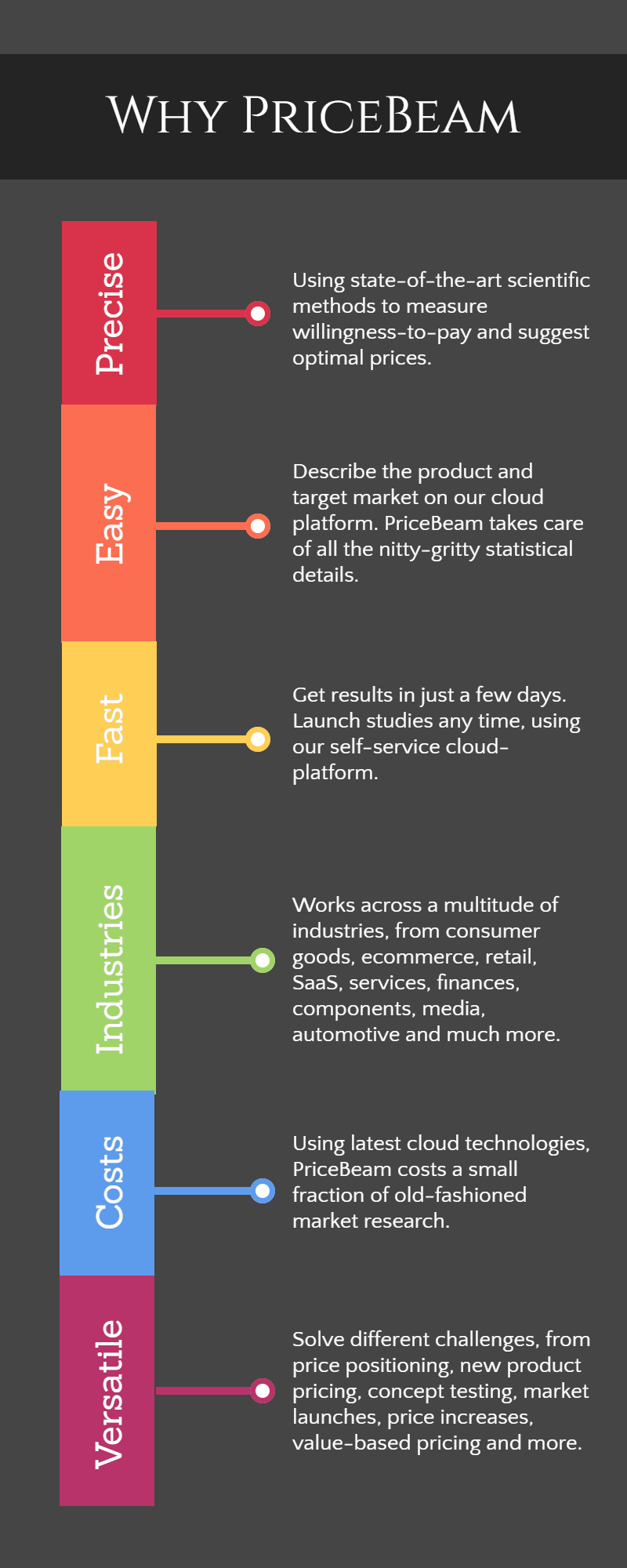 About PriceBeam
PriceBeam brings decades of pricing experience and know-how to customers who want to take the guesswork out of pricing.

PriceBeam is all about helping companies improve on their pricing by taking the guesswork out of what the prices should be. We scientifically survey and analyze customers' willingness to pay and use this to offer insights as well suggested actions for how to price.

From the outset PriceBeam has been created as a global enterprise with representation around the world. PriceBeam provides market research about customers' willingness-to-pay in 127 countries. The team boasts experienced pricing industry veterans with decades of experiencing in helping companies around the world manage and optimize their prices and price structures.

PriceBeam offers superior, cost-efficient and fast pricing research to a variety of industries, including consumer goods, consumer services, startups and entrepreneurs and investors.

Our corporate values include:
Customer focus

Entrepreneurship

Global outlook

Innovation is key

If you are interested in partnering with PriceBeam or working for us, please contact us.
Our Story
For as long as commerce has existed, producers/merchants have tried answer a question of great importance: What Price should I charge for my products/services? Getting the answer right is critical. Set the price too high, and you will chase away customers who would have been interested in buying.
Set the price too low and you will leave money on the table, selling yourself and your work short. To complicate matters further, the willingness-to-pay for your products varies from customer to customer and over time. To solve this problem, companies have come up with a number of methods to set their prices: maybe I could set my price to the costs of production + a certain mark-up? Maybe I could set the same price as my competitors? These methods are default practice in most industries, yet these methods are false friends and ultimately fall short. Why? Because at no point do they take into consideration the customer and his willingness-to-pay. Over the past decades, academics have combined statistics, economics and psychology to develop value-based pricing techniques to extract this information from customers, allowing the setting of truly optimal prices.
However, until now, these value-based pricing techniques have been unavailable to most companies because of the complexity, costs and time involved. Therefore we saw the need to develop PriceBeam: the one stop shop solution to all your pricing insights needs. Available as a Cloud-based solution/software, PriceBeam allows you to easily & quickly develop pricing research to uncover the willingness-to-pay of your customers for your product/service. Simply spend 30 minutes filling in a few questions about your product/service and target market, and we will take it from here. Using cutting edge, cloud computing and a global network of partners, we can survey customers in 127 countries from all walks of life. Using state of the art statistical techniques, we will extract the willingness-to-pay and preferences of your customers and provide you with the results in under a week. And the best part is that, thanks to our technologies, we are able to offer our services at just a fraction of the cost of traditional market research. Take the guesswork out of Pricing with PriceBeam.

Our mission: to empower businesses to continuously collect market insights without needing to have specialized statistical or pricing knowledge, at a fraction of the costs of old-fashioned research.